In response to Bellovintage, who wonderfully asked me for a Green Tea Cupcake recipe… Well, here it is! Some wonderful Green Tea Infused Cupcakes with Green Tea Infused Creme Cheese Icing. 
You wouldn't believe my frustration not living in manhattan anymore… No longer can I take a 10 to 15 minute trip and find anything and everything I ever needed as far as special ingredients or tools go. 
I'm trapped in an upstate kind of mind, with only one asian specialty store that is a 20 minute car ride from my house. I even called first and specifically asked them, "Do you have Matcha Powder?" and he responded… "You mean Green Tea Powder???" To my delight and surprise, he said yes! What happens when I get there? "Oh, I'm sorry… Next week!"
You've got to be shitting me… I had called just 15 minutes before and he said it was in stock. I drive all that way, only to come out empty handed. So I scoured the interwebs searching for answers, and the best possible solutions to my problem. In my search, I found that infusing the tea in butter was my best and only option. Just like making weed butter! Though I've never made it myself ;P
Ingredients for Green Tea Infused Butter:
3 Sticks of Butter
6 Green Tea Bags
Cheesecloth [for straining bits of tea]
First, melt down your butter into a medium saucepan till it is just liquid. Cut your green tea out of the baggies, and pour into the melted butter. Stir lightly and let simmer on low for about 10 minutes. Remove from heat, and let stand for another 10 minutes. Have a friend hold the cheesecloth firmly against an open container, and pour the butter through. You may want to fold the cheesecloth a few times, just enough so you can no longer see through it.
It will take time for it to get through the cloth. I used a wooden spatula to scrape and push it down. Once most of all the butter is through and the tea is left behind, use your hands to wring out the rest of the butter. Don't squeeze too hard, the cloth will get fragile at this point and it's easy to break and ruin the whole process!
I put my  butter in the fridge to solidify, then removed it to bring it back down to room temperature. It's much quicker then letting it sit out for hours on end to reshape. Also, keep in mind you can do this with any tea! Or even lavender… It's way better then using just regular butter. I kind of want to infuse all of my butter this way now :D
Ingredients for Batter:
1.5 Cups of Flour
1 Cup of Sugar
8 oz of Infused Butter, at Room Temperature [half a measuring cup]
1.5 Teaspoons of Baking Powder
.5 Teaspoons of Baking Soda
2 Eggs, at Room Temperature
.5 Cup of Whole Milk
Almond Shavings
As before, I'll say it again! I think it's copy and paste instruction time, haha. 
Start by mixing your tea infused butter and sugar together for 5 to 10 minutes with a hand or stand mixer. This is one of the most important parts! Don't be lazy, otherwise they won't be fluffy and moist ;P

Take your dry ingredients and whisk them together in a separate bowl so the baking soda, powder, and flour are distributed evenly.

Start with your eggs, one at a time and incorporate them just enough into the fluffy butter and sugar. Then, in three additions, add your dry ingredients alternating with the .5 cup of whole milk as well. Mix everything by hand at this point, so as not to over mix.
After you pour the batter into its liners, sprinkle some almond shavings to give a little texture on the top of the cupcake. Bake at 375F for 18 to 20 minutes, pull out and let cool!
Ingredients for Green Tea Infused Butter Creme Cheese Icing:
8 oz of Infused Butter, at Room Temperature [half a cup]
8 oz of Creme Cheese, also at Room Temperature
1.5 to 2 Cups of Confectioners Sugar
Royal Blue & Lemon Yellow Gel Food Coloring
With a hand or stand mixer, beat together your butter and creme cheese. Then slowly add confectioners sugar until desired sweetness is achieved! Honestly, I always eyeball it… I like mine on the less sweet side however, and you really want to taste the green tea, so don't overpower it with sugar!
Add a few good drops of yellow coloring, and just a half or one drop of blue coloring. The blue will overpower that yellow very quickly! So use a tooth pick to add little tiny drops of blue, mix, and then see if you need more. I'm a colorist when it comes to art and also when I work my day job at my salon. Color is tricky, so be slow and cautious!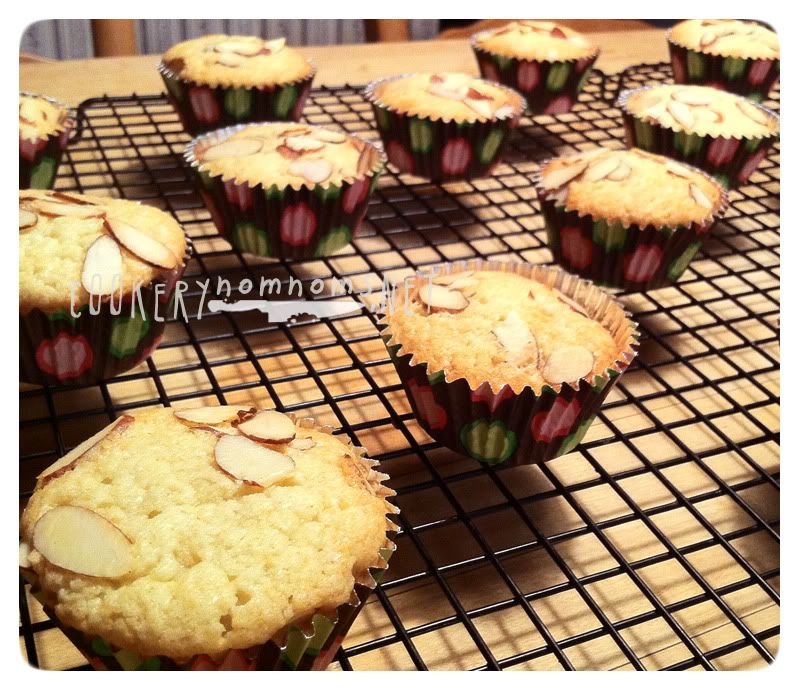 Use my handy ziplock trick to ice the cupcakes, garnish with some shaved almonds, and voila! The Green Tea flavor cooks out of the cupcakes mostly, but it's still hinted there. The frosting though, is definitely where you get the punch of flavor. It's not too intense though, don't worry ;P You'll have people asking you what's so different though… That's the best part :D
I'm off to Long Island to visit my cousin Gillian and lay on the beach in the Hamptons for two days. Crossing my fingers for good weather! Wish me luck, wine and champagne! YEY!!!
Later Food Lovers,
Justin Francis Kane